It's just about that time!  As previously mentioned, there's a new disc golf course opening up in Citrus Heights.  Being put together by Drew Gibson, the Sunrise Disc Golf Course has its grand opening this Friday, 2/15/15!
One of the aspects that sets this course apart from the others in the area is that it's pay to play.  Seeing as it shares property with a pay to play ball golf course, that's totally expected, in my book.  The cost of a round isn't bad, at $6 for an 18 hole round.  Granted, I haven't set foot on the course yet to justify that fully, but based on what I know so far, it's definitely acceptable.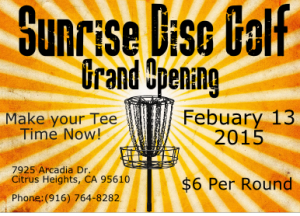 Another great draw is the Back 9 Bar & Grill, the clubhouse/bar/restaurant/live music venue for the courses.  Back 9 is a popular spot for drinks and some really great shows (in fact, it's where our band, ForNeveR, scheduled our first show and CD release party!), and the food is amazing.  Be sure to say hi to Kelli and Carl out there!
I have high hopes for this course.  Drew has enlisted some great help with this course, including Nikko Locastro, and it so far looks to be a very fun course.  I'm looking forward to hucking some plastic out there, but sadly won't be until next week due to an out of town vacation this weekend (Where I will be stoked to finally play La Mirada, oh yeah!).  But you bet that I'll be there with my $6 in hand next week!
Speaking of cash and scheduling, it's highly encouraged to call ahead for tee times, as they're trying to run this legit, similar to a ball golf course.  I've heard that scheduling the tee times have been not quite as reliable as desired, but hopefully this gets smoothed out after the first few days.  No point in saying to call for tee times if when you do so, you're met with basically a non-response.
You can reach Sunrise Disc Golf Course for tee time reservations and other details at (916) 764-8282.