Note: I started writing this post in November, a few weeks after I bought this bag.  It's been about four months since I started writing the review (yeah, I kept getting distracted), and some things have changed.  Where that's the case, I'll have notes added in.
Not too long ago, Average Disc Golf posted a quick review about a new backpack that's been out for a bit, the Magellan Outdoors Deluxe Disc Golf Backpack.  I've been slowly outgrowing my Innova Standard Bag with my addiction to buying new plastic, and have been wanting something that can carry more than just discs and one drink.  I've previously posted a comparison between the reigning champs of disc golf backpacks, the Grip, Dynamic Discs Ranger, Latitude 64 Deluxe Backpack, and the yet to be released Chainbangerz Kraken.  I've been leaning toward the Ranger and the Kraken, but the price has been a bit prohibitive for me so far, so I hadn't pulled the trigger.
Enter the Magellan Outdoors backpack.  At the time, it was available from Academy Sports for a cool $29.99 (although now it seems to be $39.99).  I was getting ready to go to Santa Cruz for the weekend with my girlfriend, and we planned on hitting De Laveaga, for which I wanted all my discs, and more storage space for that 29 hole trek.  I got the backpack shipped out super quick, and De La was my first outing with the bag.
How'd it do?  Quite well, actually!  I was worried that the bag would immediately start getting torn up with a full load of discs, my external phone battery, and a full load of two big water bottles, but that wasn't the case.  It was pretty easy to use, and easy to carry.  For $30 (and even $40 now), you can't beat the value.  It was definitely the best part of my round, as I shot absolutely horrendously out at my first visit to De Laveaga.  Embarrassingly bad.  But the bag got a good amount of attention out at De La.  More than a handful of people asked about the bag, many of them saying, without prompting, "Hey, is it that $30 bag?"  Not sure if it was out of curiosity or derision, but either way, looks like people have seen it enough.
February update: About every other time I go out, someone makes a comment about the bag.  Seems people don't see these things out in the wild very often.
Since then, I've taken the bag out to every round I've thrown.  Shady Oaks and Rocklin in one day, Penn Valley and Auburn in one day, Oak Grove in Stockton, and of course smaller courses like John Mackey and Oak Park.  Even at the smaller courses, the bag never feels overkill, and it's suitable for the larger courses and day trips.  I wanted to hold off on a review for a while until I managed to get a good amount of use with the bag, and now I've got that covered, and have a solid opinion of the bag.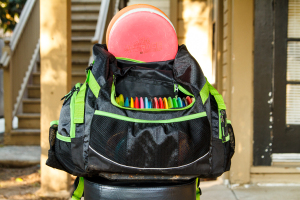 I currently have every disc I own in this bag.  During my first outing at De Laveaga, I had two less than my current capacity and picked up a used DX Rhyno and Ace Race 2013 proto after the round.  Currently there's 25 discs in the bag.  My Dagger and two DX Rhynos in the putter spot up top, and the rest in the main compartment, including three other putters (DX and Champ Aviar, and Trilogy Shield proto).  Probably too many discs, but having the bottom filled to capacity definitely helps the bag stand up better.
February update: I don't have everything in this bag now, as my disc collection has grown, and I've pulled out some discs either to go into my girlfriend's bag, or just don't throw them.  Putter pocket has, up until today, had the Dagger, the DX Rhyno, and a Warden.  I replaced the Dagger with a Zero Soft Mercy, after Adam's been raving about the one I sold him.  Still handles three putters well, but you'll never get all three in or out at the same time.  I probably have about one less disc in the main compartment, just to make it easier to get discs in and out.
In one side pocket I have my Discraft Ace Race towel, and another towel or two.  The other side pocket is where my ecig juice case goes, along with my external battery pack for my phone, and usually my wallet.  The mesh pocket at the bottom front is where my minis live, and if it's a wet (or hot) day, I have a towel slipped into one of the compression buckles on the side.  Initially, I had my phone battery or ecig case in the main zipper pocket, but that started making it difficult to keep the front flap tucked behind the discs in the little sewn-in pocket back there.  Now, just small, light, thin things go in there.  Like ForNeveR CDs, stickers, and flyers. lol.
February update: I've skipped slipping a towel through the compression buckles, as tightening one down enough to hold a towel was making access into the far edges of the main compartment difficult.  I have a towel clipped onto the handle strap now, and then other misc towels in a side pocket.  I've also picked up a lightweight track suit jacket that, when rolled up, fits in the other side pocket, so at least there's that, too.
The construction of the bag is pretty impressive for the cost, actually.  Everyone I've talked to about the bag has their doubts about the build quality, and rightfully so.  But the material is strong, the stitching is holding so far, and it doesn't feel like it's going to fall apart.  There were some threads along the shoulder straps that are stray, but it seems to have been an issue with the original build of the bag, and maybe is a QA issue.  But nothing's coming apart yet, and I haven't been gentle with the bag.
February update: There's one pro shop employee who asks me how the bag is holding up every other time I see him now.  I think now it's just now a point of humor.  But he has heard nothing but complaints from other people who have bought one, saying they've fallen apart.  So, either my copy was a fluke of good construction, or other people abuse the shit out of their bag and/or got the bad construction flukes.  I honestly wouldn't be surprised either way.
The other main concern is how the bag stands up on its own.  I think I've only had it fall over once or twice on me so far, and that's when I put it on a pretty steep angle facing the wrong way.  The bag stands up on almost every surface I've put it on, on every course I've played.  The two bottom plastic rails do a good job of not letting it slip down hard dirt hills so far.  Just have to use some common sense to make sure you're not setting it down where it's definitively off-balance.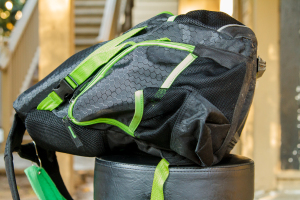 February update: The bottom platform of the bag is definitely bowing under the weight of the discs.  It's not really terrible, but I could see how this may bother people, and possibly become a bigger issue down the line after another 5 months.  I doubt it, but who knows.
I wish there was more storage space in this bag, primarily for a jacket.  I haven't picked up a lightweight rainproof jacket yet, but my somewhat thin fleece pullover is pretty cumbersome.  It doesn't really sit well in one of the compression buckles, so it's either wear it or leave it in the car.  This is where bags like the Ranger, Lat64 backpack, and the Kraken really excel.  There's just way more storage space in those bags, but there's also a massive cost difference.  So, it's allowable with this bag, in my book.
 February update: Now that I do have the aforementioned lightweight jacket (not rainproof, but still), it means that I've cut down on available storage space for my ecig stuff.  This is where having way more storage space comes into play.
Well, now it's February.  I've had this bag a good five months.  And have procrastinated on finishing this post for four of them.  I've put enough wear and tear on this bag to reasonably form a rather solid opinion of the bag.  So, what is that opinion?
The fact that it's still holding up–and not just barely–is a miracle, I think.  Especially when that miracle only cost $30 when I purchased it.  Even at $40, it's a good deal.  No, it doesn't have the bells and whistles of the higher end name-brand bags, but it's freakin' $40.  It stands up on its own, it hasn't shredded.  It hasn't even ripped on me yet.  Anywhere.  I've lugged it to and from work, thrown it around in my car, taken it to every disc golf outing I've had since October (average 1-2 a week), and it's working.  And it's not uncomfortable either.
That said, I do want more storage.  I do want a more rigid bag.  I do want a larger drink holder.  Part of me wants a hydration bladder like the Kraken has, but part of me also realizes that's a lot of extra weight to lug around for an hour or more.  There's pros and cons to every bag out there.
But really though.  If you just need something to carry your discs, some drinks, and a small amount of other stuff without much of a budget, this bag is definitely worth a buy.  I'm sure that Academy Sports will step up and replace anything that falls apart within the warranty period, but so far, I haven't had the need to find out about that.
I'm up for reviewing more gear, and will do so as I buy stuff.  But I'm also open to reviewing anything sent my way by manufacturers, so drop me a line if you'd like me to review your bag (or other stuff)!