You may have seen some disc golfers out on the course with a rolling disc golf cart to carry their discs and/or backpack along with them. You may have wondered why they're so popular these days, and maybe even why anyone needs one. Well, wonder no more, because today we're reviewing the Zuca backpack disc golf cart.
Note: All Zuca carts are currently 20% off until the end of April due to the COVID-19 outbreak.  All current in-stock Zuca carts (excluding Dynamic Discs-branded carts) are on sale right now.
Types of disc golf carts
Today we're looking at the backpack cart, primarily because it's the one that I acquired back in November. But there are several different types of disc golf carts out there, and even within Zuca's own lineup, there are different styles for different needs and preferences.
Backpack carts are carts that you can put your disc golf backpack in. Pretty easy to figure out. These are actually somewhat in the minority of cart styles, however. Most disc golf carts have their own built-in storage racks to hold just the discs, and then usually have accessory pockets or pouches, and you can add extra storage bags to the cart frame to hold even more.
With these dedicated disc golf carts you can usually get more discs stowed away in the normal non-compact variants because they don't also need to make room for a bulky backpack taking up space within the frame. If you need more space than what a backpack offers, getting a regular disc golf cart may be a good way to go.
Speaking of, there are different sizes of carts available, depending on how many discs you need to carry and how large of a cart you want to lug around with you. The standard Zuca cart, for example, can carry about 32 discs, whereas the compact stores half that because it's a single-height rack instead of the two rows in the regular cart. There are other smaller versions available depending on your needs as well.
Even within the backpack carts, however, there are more options available. Zuca offers their regular backpack carts with a seat and one without the top half of the cart frame, obviously meaning there's no seat—but at much less weight and easier removal of your backpack.
Zuca does also have a newer cart that basically has their own backpack (of sorts) already inserted if you want to go that route.
Why should you get a disc golf cart?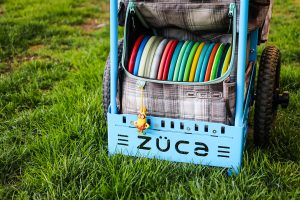 If there's one consistent behavior along one's path through disc golf, it's that there's always a need for more discs. More discs in your collection, and more discs in your bag. As you get more discs, learn more shot shapes, you progress from the small lunch bag sized shoulder bags to disc golf backpacks to carry more discs with you.
But either as you start carrying way more discs, accessories, and water (or just getting older) the allure of that heavier backpack starts fading and you look at others on the course with a disc golf cart with new envy.
But if that's the case, why not just get a dedicated disc golf cart as we mentioned above? Because then you'd need to move your discs between a cart and a backpack if you ended up playing a course that wasn't cart-friendly.
Disc golf backpack cart vs a dedicated disc golf cart
If you're playing a course that's fairly open, not a ton of crazy elevation or hiking, a cart is perfect. Even with mild hills and terrain the Zuca backpack cart is an excellent companion on the course and really helps tote around all your gear.
But what if you're playing a course that's a legit hike, such as Zephyr Cove in South Lake Tahoe? You can just pull your backpack out of the cart frame and go. There's no need to transfer all your discs and accessories from cart to bag and back when you're done. It's a very flexible setup and it works for a lot of people.
If you never go to these rougher courses, then it doesn't really matter. But if you frequent courses that aren't cart-friendly, having the flexibility to go either way is useful. With a dedicated cart you'll be moving discs between it and a backpack for those courses. Or even worse, you get to a new course with a cart, realize it's not cart-friendly, and then still have to drag it all over with you.
Why should you not get a disc golf cart?
Backpack cart or dedicated cart, the struggle on these rougher courses are the same. Some courses just make it tough to drag something along with you on wheels, and you'll actually be much slower and much more tired.
Carts do also take up more space in your vehicle, especially if you have a smaller car with a small trunk or no car at all. The extra weight and size of a cart aren't always feasible for some situations.
If you're flying somewhere, you can't bring a disc golf cart as carry-on, they don't fit the dimensions. You could check it in as regular luggage, but then your precious discs won't be on your person in case of lost baggage.
That said, I personally feel that most of these are fringe cases and most people would do just fine with any sort of cart, backpack or dedicated.
Which cart are we reviewing?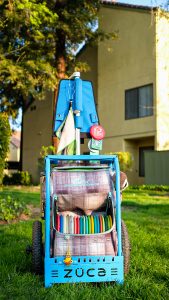 So now that we've looked at some basic cart info and pros/cons, let's get into the real point of this post, and that's to actually review the Zuca Backpack Cart itself. Specifically the regular-sized Backpack Cart. This review will be specifically geared toward this cart size, but comparisons to the Zuca Backpack Cart LG will be made here and there.
I picked up my cart last November as part of their Black Friday/Cyber Monday sale and ended up getting the cart at a really great price. I had been wanting to get one for a while, but just never made the purchase, so it timed itself out quite well.
Zuca Backpack Disc Golf Cart features
The Zuca carts are pretty basic designs but are pretty well thought out. The main cart frame is a tube structure that encases your backpack. The bag sits on a metal deck with some rear deck plates as reinforcements. Zuca lists the supported bag dimensions for the Backpack Cart as 9″D X 12-14″W X 19″H.
The cart rolls on two large, tube-less foam wheels on a single axle stretching across the wheelbase. The tires are knurled for good grip on any terrain and have so far had no issues on any course I've played. When standing up, it rests on those wheels and the front feet at the bottom of the tube frame.
There usually isn't an issue with the cart tipping over if slightly off-center, but depending on how you've loaded up this may be different. In general, the center of gravity is pretty low and resists tipping on all but the steeper slopes.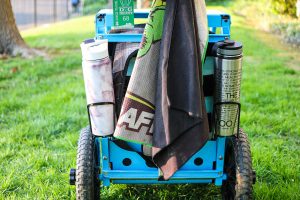 Attached to the back is a telescopic pole with a handle on the end. The pole can extend out to about 51″ and is suitable for players of pretty much any height. The handle is mounted perpendicular to the pole and is slightly contoured to fit nicely in your hand.
This pole is also where you can mount various accessories, such as the putter pouch, accessory pouch, and umbrella holder. It's easy enough to collapse to a shorter length to fit in the trunk of your car and extend back out when you're ready to roll up to the first box.
There's no internal stop mechanism so the top part of the pole can come out if you don't tighten the collar down enough, which also means you need to ensure that you don't pull the top piece out too far when expanding it out. The bottom has a STOP line engraved in it, so at least you can see where the longest safe distance to extend the handle resides.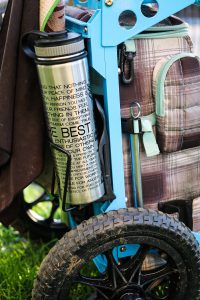 On the backside of the frame are two bottle holders, one on each side of the cart frame. These are adjustable with a small knurled thumbscrew mechanism and are of a similar design to what you would see on a bicycle.
At the top of the backpack cart is a flip-up seat. Lifting this allows you to get to the top compartment of your backpack, or with it flipped down it gives you a decent place to perch when the benches are full (or non-existent) and you're waiting out a bottleneck. You can get seat cushions (also available in Dynamic Discs branded versions)for the seat as well, but it's definitely a sturdy build and means you don't need to carry a tripod-style seat taking up a bottle holder in your bag.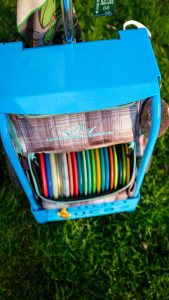 My existing disc golf gear
I've been using an older Dynamic Discs Ranger backpack for several years at this point. I really like the bag, but was noticing some definitive reasons for either moving to a lighter bag or getting a cart.
Primarily the fact that constantly putting down and picking up the bag for throws had started agitating my elbow. I'm right-handed and just grab the bag with my right arm without thinking, and sling it over one shoulder on most walks from lie to lie. I do also have a bit of knee pain in my right knee, and carrying the bag also isn't doing that any favors.
The bag itself isn't too heavy, even when loaded up with discs in the main and top compartment, a 32oz Hydro Flask and a 20oz Hydro Flask in the bottle holders. It's what was effectively bicep curling the bag constantly that started to take its toll on me.
Speaking of hydration, I do always have at least a single 32oz Hydroflask in my bag. If it's warmer, I'll have that with some ice and a smaller Hydroflask with just water to refill the larger bottle. If I could carry more I definitely would.
I do have my main backpack compartment filled with discs as well as a handful up in the top compartment (more utility or rarely used discs, or discs I'm casually testing out). Usually, I have two putters in the putter pocket, but those get moved elsewhere in the backpack (more on that later).
There are also a few other things in the top compartment, but nothing crazy heavy—baseball, clipboard, extra socks, etc.
How the backpack fits into the cart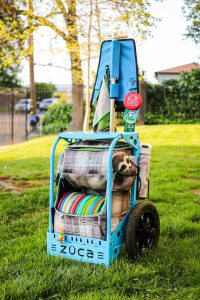 When the Ranger bag is in the original size backpack cart a few pockets are immediately made inaccessible. Your putter pouch is flattened, as are your two bottle holders. This is not the case for the LG size, I believe, at least not for the Ranger and other similar bags.
Zuca specifically states that certain bags are compatible with the Backpack Cart:
Accommodates disc golf bags like the Dynamic Discs Ranger, Upper Park Rebel, and the Innova Hero.
It's worth noting that the Dynamic Discs Commander bag also fits in the Backpack Cart, although it suffers the same loss of side pockets that the Ranger does.
Regarding the LG Backpack Cart, Zuca says this about bag compatibility:
Accommodates larger bags with ease (e.g., Grip AX3, Latitude 64, Innova Superhero, Upper Park Shift, Pound and Dynamic Disc H2O.)
As a note: while the H20 is basically a Ranger bag, I wouldn't try to get it to fit into the regular Backpack Cart, so it's good to know that it fits in the LG version.
And there's one more variant of backpack cart from Zuca, the EZ Cart and EZ Cart LG. This is the version mentioned above that doesn't have the top half of the frame. This should fit any size bag, as it has the same wheelbase as the LG Backpack Cart (24″ wide instead of 14″).
Back to the Backpack Cart, however, as long as it's not one of these larger oversized bags you shouldn't have any issues fitting it into the frame. If you're unsure, measure your bag and compare it.
One note, however, this probably wouldn't be a good situation for older tournament-style bags—bags with the removable straps that are more of a long, flatter bag. Maybe the EZ Cart would work, but I have yet to see a tournament-style bag on a cart like these.
Zuca backpack cart accessory pouches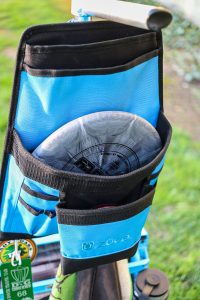 As mentioned above, the side pouches are basically useless when using certain sized bags with this cart, but there are solutions available. Depending on your cart of choice, there are various accessory pouches, saddlebags, and other storage available.
When I picked up my cart, I ordered the Zuca cart putter pouch. This pouch attaches to the extendable handle and easily holds my two Dynamic Discs Judges securely while still being easily accessible. Because the pouch is at the top of the handle, you never need to bend over to grab your putters, like you would with just the bag on its own sitting on the ground. There's also room for your mini, pencils, clipboards, and other useful little items, making this a very useful accessory pouch for pretty much everyone.
While the cart does come with bottle holders, they aren't necessarily the best for larger bottles. As I previously mentioned, I do like to have a large insulated bottle with me, and this wouldn't be possible with the bottle holders that ship with the cart.
There is, however, a Zuca accessory pouch available that attaches to a lower section of the extendible handle that is large enough to fit 32oz and 40oz Hydroflasks without any issue. It also has flapped pockets that can fit keys, phones, wallets, or whatever else you may need to carry along with you.
I made the mistake of not ordering this pouch when I bought the cart, but finally got around to ordering one and it seems to fit my Hydroflasks and my new 40oz Takeya bottle without issue. While I haven't played a round with it yet, I have no reason to believe it's an issue (I'll update this when we can finally go outside again and I get to test it!).
Water bottle holders
As previously mentioned there are two bottle holders built attached to the backside of the frame. These bottle holders are perfect for plastic water bottles bought in a store or smaller insulated bottles. I have two 20oz Hydroflasks that will fit, however, they're too tall to be reliably kept in place by the curvature of the bottle holders.
I have yet to have a bottle fall out while out on the course, but they definitely sway around and I'm constantly paying attention to them. But they've actually been a surprise as to how solid they actually are when blatantly overloading them.
Zuca does have larger sized bottle holders available for order, however, I'm not sure how strong these are or how well they'll hold a heavier, larger insulated bottle. My solution was to buy the Accessory Pouch, which will fit a 40oz Hydroflask or similar bottle much more securely. Unfortunately, mine showed up just after the last tournament/round I played, and just before a lot of parks started closing up, but I'll update this when I have more info at that point.
Using the Zuca Backpack Cart on various terrain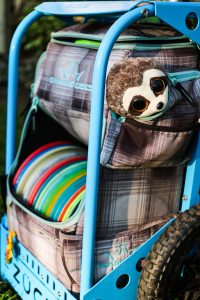 It may not be a surprise, but the Zuca cart is at its best on less challenging ground. Inclines and slopes are fine, as long as the ground is pretty even. It's not a challenge to pull a cart uphill or guide it down. The cart and bag together aren't terribly heavy, so in most situations, you won't need to worry.
Where you'll run into issues, however, is very uneven ground—even on flat land. If there are a lot of ruts in the dirt, large rocks, tree roots or fallen branches you may find some issues navigating through.
Mud is also a bit of an issue, to a point. The tires are excellent through mud, but depending on how deep it is, they may sink past the axle and get the bottom of your bag or at least the cart frame dragging through. Granted, that mud would probably best be avoided even if you were wearing your backpack, but it's just one thing to keep in mind.
As an example, the new course in the area, Cameron Park Lake, is probably the least cart-friendly course in the immediate area. We played a practice round before the inaugural tournament in (at times) pouring rain. The course is mostly pathed out quite well, but some fairways are a bit rough, and I still made the decision to bring the cart the next day for the tournament.
One hole is very steep uphill with some low brush, trees, rocks, and high-ish grass, and the right side of that fairway is a fairly aggressive uphill slope along the OB line to the pin. Dragging the cart up that side of the fairway was a challenge. The first day going to the left side was easier, but the second day going right was definitely a challenge.
The pathway to that hole is even tricky. From the previous pin to the tee box is an uphill/downhill path cut through some blackberry bushes, and the way down is rutted and has some tree roots. It wasn't easy, and the following day I didn't take that path, instead, doubling back down the fairway to get to the box (no one was behind us, of course).
Through the muddier later holes with chopped down bamboo-like stumps through the paths the cart actually handled pretty well as long as I avoided the large stumps. I was also able to traverse steep berms as long as I was guiding it down safely, and overall the cart handled the course without issue.
If you take a cart out to a less chaotic course like Shady Oaks or Rocklin you have much less to worry about. Sure, there's the possibility of your lie ending up on one of the more hilly areas but usually, there are no problems pulling the cart up and finding somewhere for it to perch without falling over.
I would only really worry about taking a cart out to somewhere like Zephyr Cove, or perhaps a few holes at De Laveaga. Hikes would be no fun with a cart, especially with steep inclines and fairways covered with large rocks, small shrubs, and uneven ground surfaces.
Physical benefits of using a disc golf cart
Immediately after my first few rounds with a cart I've observed that my right elbow and shoulder feel much better. Not needing to bicep curl my backpack and hoist it over my shoulder between every throw actually makes quite the difference for me personally. My knees also feel better as I'm not loading extra weight on top of my own body weight (which, let's be honest, is already too much).
Being able to offload that energy expenditure to the less strenuous act of pulling or pushing something on wheels has made it easier to get through a round with less physical impact. I'm not bending over nearly as much because my putters are at a reasonable height, and the bag itself isn't as low to the ground either.
Having a seat at every hole helps when dealing with tournaments and bottlenecks at busy holes, even though I end up rarely sitting between holes as it is. It's useful to a lot of people, and it's one less extra thing to remember and carry.
And while we're approaching the end of the rainy season and I haven't had the need for it yet (aside from that one tournament weekend!), being able to have an umbrella mounted and always over your bag is a great bonus for those who don't mind getting out in less than desirable weather.
Final thoughts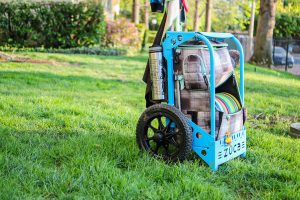 Honestly, I really can suggest a disc golf cart to pretty much anyone—there are very few drawbacks at all. Yes, there are issues with some extreme terrain, and if these sorts of courses are your home courses you probably won't want to bother with one. But for the majority of golfers out there (especially golfers with physical health issues or certain pain) you really can't go wrong.
The Zuca Backpack Cart is an excellent cart in my eyes. It's well-built, simple to assemble and get going, and has very little that can actually fail on you. While it may be a bit of an expensive option to get going—especially after buying pouches and accessories—it's an investment that's well worth the cost, if only for making rounds a bit easier and less effort.
What do you think? Have you had any experiences with the Zuca carts or any other carts in particular? Have any questions about the Zuca backpack cart? Leave a comment below and let us know, or contact us at @sacdiscgolf on Twitter!