Over the past month or so we've seen multiple changes in the guidelines and restrictions affecting disc golfers in Sacramento County, as well as surrounding counties.  After strongly urging responsible social distancing guidelines be observed on our courses, Sacramento County shut down a multitude of recreational facilities including disc golf courses on April 7th.  Placer County shut down their recreational facilities on April 10th, and baskets at Shady Oaks were pulled on April 15th after people were ignoring the closures.
Currently, things are looking quite a bit better though.  Sacramento County has allowed for reopening of various non-contact recreational facilities, including disc golf courses, on May 1st as long as social distancing and health regulations are strictly followed.
The baskets are back in at Shady Oaks and other courses, and Rocklin has their baskets back as well with Placer County following suit and reopening their recreational facilities.  City of Rocklin has also officially opened playgrounds with specific guidelines in place.
Many surrounding courses have also either put baskets back in or reopened in some capacity, including Grass Valley, Somerset, Finnon Lake, Browns & Bows, Penn Valley, Lake Amador, and Vacaville.  At this point, San Joaquin County has not opened back up yet but does plan on reopening Oak Grove and Micke Grove parks along with disc golf activities (without baskets) on May 18th, 2020.  This is, of course, while requiring following social distancing and other related guidelines.
But even with courses opening back up, there are still rules that need to be followed to ensure that the baskets don't get pulled again.  Shady Oaks DGC has posted the following guidelines which, to be honest, are pretty reasonable.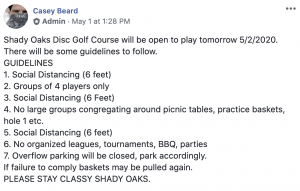 In addition to these, most counties or clubs have been advising some extra guidelines to ensure that everyone is safe and courses can be left open without further issue.
Consider all putts less than two meters from the basket as a "gimme" and do not hole out
Do not share beverages or other consumables between people
Do not high-five, fist bump, or perform other contact-based celebration
Bring hand sanitizer and ensure proper disinfecting processes are observed
Do not touch another players' disc, bag, or other items
On May 6th, PDGA President Justin Menickelli sent out a "Letter to Members on Responsible Recreation," in which the PDGA has also announced that returning to our courses is acceptable as long as proper guidelines are followed.  This message also confirmed that sanctioned play is still suspended through May 31st, 2020.  Unfortunately, this means that the 2020 US Women's Disc Golf Championships is still postponed, which was scheduled to take place in multiple courses in the Sacramento area.
We're glad to see that our beloved courses are beginning to open back up.  While we do need to alter a few of our behaviors when out for a round, this is decidedly better than not being able to disc golf at all, and we need to continue to do our part to set a good example for the community.  We're very excited to get back out on the course after an excruciatingly long wait to do so.