A while back I was sent a review copy of Triumph Books' new title, The Definitive Guide To Disc Golf, and was really excited to get through it.  Through a handful of other (non-disc golf-related, sadly) projects and obligations, I've finally done had a chance to finish the book and review it a few times.  So, enough waiting, let's get into this!
What's the deal?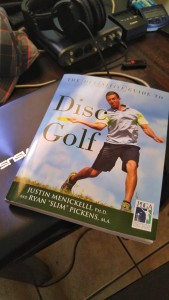 This book is an attempt to explain as much about the sport as possible in the written word.  As most of us know, disc golf isn't quite mainstream yet, and as such, it tends to be glossed over and not given the attention to detail or accuracy it deserves, as well as being familiar with the ins and outs of the sub-surface culture and nature of the sport.  And this book nails it, entirely.
The book is co-written by Justin Menickelli and Ryan "Slim" Pickens.  Menickelli is an associate professor at Western Carolina University, teaching courses in all sorts of sports mechanics and psychology, along with disc golf, and holds a PhD in Kinesiology and a BS in Exercise Science.  In other words, dude knows his sports science.  Pickens both an MA and BS, and has taught disc golf at the university level along with designing courses, and a top 25 finish in the Pro Master's division at the 2012 Disc Golf World Championships.  Again, pretty good pedigree.
Both of the authors are well-versed in the sport and culture of disc golf, along with the science behind the mechanics of playing, and it definitely shows in the book.
Contents and structure
The Definitive Guide To Disc Golf is broken up into three different parts, each of which with a handful of chapters.  Parts are labeled as "The Nature of the Game", "The Science of the Game", and "The Skills of the Game", and is accompanied by a large amount of great photos and illustrations of many of the pros we all know, along with photos of and by the authors for the more technical depictions needed in some areas.
I actually really enjoyed the first part (Nature of the Game), and is an excellent introduction into what the sport is, what you need to start and how to get up and running.  Beyond that, there's also the expected rules of the game, and even a great chapter on disc golf course design.
But I really dug the chapter on the history of the game.  It goes all the way back through to the very beginning, and the evolution of the actual Frisbee, discussing how this led to the formation of the game we now know.  Diving pretty deep into the companies and people responsible for nudging the game along, I found this section a blast to read.
The second and third parts (Science and Skills parts, respectively) are where the meat of this book is, however.  The science covers the mental and physical preparation involved in the sport, but then goes one step further, and fully breaks down the literal science of flying discs.  All the physics-y goodness that dictates why a disc does what it does, and let me tell you, they don't miss anything.  If you've ever had any sort of question as to why a disc may behave like it does (like, why does my champ Beast seem to hover magically just off the ground when thrown low on dirt??), you'll absolutely love this if you've got that nerdy desire for physics diagrams.
The third part deals entirely with the actual game mechanics.  Types of throws, how they're done properly, and the why behind how the proper mechanics are executed.  Covering backhands, forehands, overhands, rollers, putting, and approaches, this is where all of the throwing knowledge is dropped.  Thanks to Menickelli's kinesiology and biomechanics knowledge, he breaks down exactly how every type of throw should be arciculated, and why.  This is the sort of content that at first you think "Hey, this would be better described with video, wouldn't it?", but it actually works out pretty well.  Not to mention, books were how we learned how to do things before YouTube, so, not exactly too far-fetched.
Final thoughts
Even though it took me forever to get through this book as thoroughly as I wanted to for this review, it's one that I enjoyed immensely.  From the history and cultural stories and tidbits throughout the pages to the very scientific approach to proper throwing technique, it has something for everyone.  It's very true to the spirit of the game, and doesn't shy away from acknowledging and informing about the "insider" terms, traditions, and mindsets that we all learn through our days out at the local course.
This book instantly puts you at ease, as if by saying "Don't worry buddy, you're in good hands on this topic."  It feels like you're along with your locals, that is, if your locals are sports scientists.
All in all, I can't recommend this book enough to disc golfers, beginner or veteran players alike.  No matter what your rating, we can all stand to improve, and you never know what will be that piece of knowledge to shave a few strokes off your game.  It's an entertaining and informative piece of dead trees that definitely belongs on your bookshelf or coffee table.
You can purchase The Definitive Guide to Disc Golf at https://www.triumphbooks.com/discgolf.