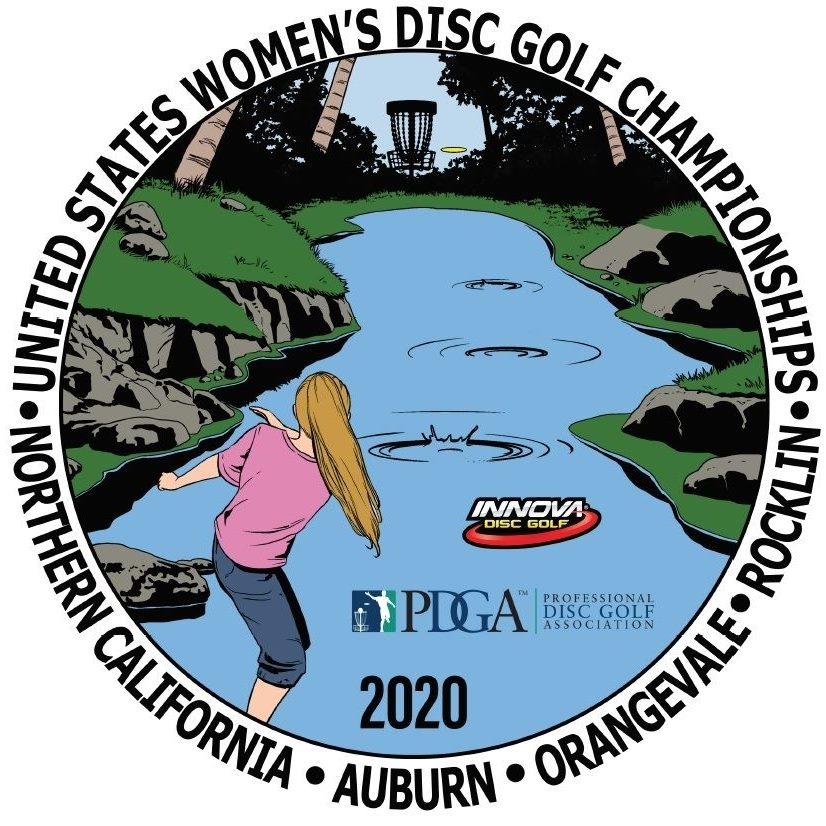 From the PDGA event page:
"The 2020 United States Women Disc Golf Championships is coming to Northern California on May 21-24, 2020.  Up to 216 women disc golfers, of all ages are coming from all over the United States to compete. The tournament will be held at Orangevale, Rocklin, and  Auburn disc golf courses.  We are also expecting over 100+ volunteers and lots of spectators."
Courses:
The 2020 United States Women's Disc Golf Championship will take place at three popular Sacramento area disc golf courses in the Placer Valley area.
Shady Oaks Disc Golf Course- Orangevale CA
Shady Oaks is in Orangevale, a city in the Sacramento metro area.  Established in 1982, Shady Oaks is arguably the most popular course in the Sacramento/Northern California area.  The 18 holes wind through a public nature park with dense trees, winding creeks bordering many fairways, and a strong mix of wooded technicality and wide-open fairways open for letting loose.  Shady Oaks has been the home of the St. Patrick's Day Classic, the NorCal Championships, and the California Amateur State Championships for many years now, and provides an excellent pro shop on-site in the Final 9 Sports disc golf retailer.
Rocklin Disc Golf Course – Rocklin, CA
Rocklin Disc Golf Course is a fairly open yet still technical 18 hole course founded in 1984 and is a short trip further east on I80 from Orangevale.  The course starts fairly open but then throws you into a bit of the woods before giving another chance to go for distance.  This pattern repeats throughout the course, providing some very rewarding holes forcing a player to deal with murky creeks in exchange for birdie opportunities.  Like Shady Oaks, there is a Final 9 Sports location on-site with a stocked selection of discs and accessories.
Auburn Regional Park – Auburn, CA
Continuing further east up I80 gets you heading into the foothills and in the direction of Auburn Regional Park, a gorgeous and challenging 18 hole course started in 1980.  The course immediately lets you know it's serious about testing your skills with a downhill couple of holes through some intimidating woods followed by a steep uphill before getting into a few open long fairways.  Auburn provides a scenic mix of technical and wide-open holes but will not hesitate to punish you on nearly any of them.
Schedule:
Thursday, May 21, 2020
10:00am
– 4:00pm
Players Check-in
Roseville CA Hotels | Best Western Plus Orchid Hotel & Suites
https://www.bestwestern.com/en…/book/hotel-rooms.05706.html…Phone: 916-784-2222 x 504
Best Western Plus Orchid Hotel and Suites
130 N Sunrise Ave
Roseville, CA 95661
5:30pm
– 6:30pm
Meet the Pro's
The Grounds – Johnson Building
Event Center Drive, Junction Blvd, Roseville, CA 95678
6:30pm
Dinner & Players Meeting
May 22-24 schedules TBA
From the PDGA announcement:
"Shady Oaks Park in Orangevale, Auburn Regional Park in Auburn, and Rocklin Disc Golf Course at Johnson Springview Park in Rocklin will each be featured, with Jennifer Knisley as the proposed tournament director. Knisley serves as the PDGA State Coordinator for Northern California and has helmed the St. Patrick's Day Classic, the NorCal Championships, and the California Amateur State Championships, each a successful A-Tier for many years. Knisley has also served as a PDGA Marshal at numerous PDGA World Championships and has a firm grasp on what is required to execute a PDGA Major." – 2020 PDGA Majors Set From Coast To Coast
Player Divisions & Entry Fees
Current PDGA membership is required to register for this tournament.
$125.00
FPO
Open Women
$125.00
FP40
Pro Women 40+
$125.00
FP50
Pro Women 50+
$125.00
FP55
Pro Women 55+
$125.00
FP60
Pro Women 60+
$125.00
FP65
Pro Women 65+
$125.00
FP70
Pro Women 70+
$100.00
FA1
Advanced Women
$100.00
FA40
Amateur Women 40+
$100.00
FA50
Amateur Women 50+
$100.00
FA55
Amateur Women 55+
$100.00
FA60
Amateur Women 60+
$100.00
FA65
Amateur Women 65+
$100.00
FA70
Amateur Women 70+
$100.00
FA2
Intermediate Women
$100.00
FA3
Recreational Women
$100.00
FA4
Novice Women
$75.00
FJ18
Junior Girls 18
$75.00
FJ15
Junior Girls 15
$75.00
FJ12
Junior Girls 12